Specialists in cryogenic deburring
Expertise for your success
Constant progress with added value for our customers – that's how it works, day after day, with us. In the field of cryogenic deflashing, we see ourselves not only as a developer and producer but also as a pioneer in the matter of the individual solutionoriented approach. Based on our many years of knowledge, we build highly efficient systems which work to save resources based on intelligent technologies and thus make a contribution to the preservation and protection of the environment. We simply want to offer our customers more: More performance, more experience, more service, more savings potential, more effective communication.
Cryogenic deflashing is a field, in which we realize more and more efficient and economical solutions. So benefit from our expertise in blast deflashing (LN2 deflashing).
Why we are the right partner for you:
Economical and efficient
thanks to short media-blasting times and low consumption
Innovative
thanks to cooperation with the University of Siegen and our own patent
Expertise und competence
thanks to many years of professional experience
Low maintenance costs
thanks to high-quality and long-lasting wear parts made from modern materials
Customer oriented
in development and finding solutions
Price-performance ratio
convinces thanks to fairness
Flexible
thanks to individual customisation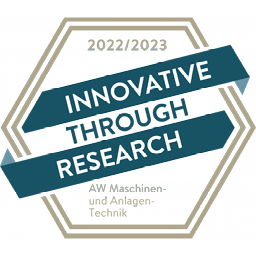 Progress through curiosity
Continuous development is the basis of our innovative technologies and therefore a decisive factor for the success of our company. The signet "Innovative through Research" is awarded to companies which promote the Research and that take part, every two years, in a full survey of the Association promoting the Research and Development in Germany. It underlines the great importance that Research has for AW-Technik.