Cryogenic media-blast deflashing
AWS 40
The AWS 40 is a media-blasting machine for the cryogenic deflashing of rubber or plasticmoulded parts. The very well-insulated machine cell, in combination with 2-stagedust extraction, guarantees low nitrogen consumption with effective deflashing.Loading occurs fully automatically via a motor-operated door. Furthermore, the AWS 40features energy-efficient drives, high-quality materials, great media-blasting perfor-mance and thus low batch times, as well as low space requirements.
The S7-1500 controls, in combination with the button panel and barcode reader, allow for user-friendly operation of the system. The entry and saving or external saving of formula data records guarantee a high degree of reproducibility and security.
Sustainable Reliability
The standard features
Processing drum
> Removable basket with selectable perforation
Flywheel
> Speed 1,000 – 10,000 rpm
> Blasting media launch speed up to 157 m/sec
> Active media-blasting angle adjustment
Controls
> Siemens S7-1500 with KP 700 Comfort button panel
Dust extraction exhaust system
> Integrated, isolated 2-stage cyclone dust extraction
Moulded part cooling
> Temperatures as low as -150 °C
Insulation
> 120 mm thick insulation cell
Granulat conveying
> Steplessly adjustable vertical and horizontal spiral conveyor
Data Management (LAN, USB)
> External protection of the formulas
> Complete batch documentation
Emptying sieve
> External sieve with vibration motor
> Changeable sieve inserts
AWS 40 – Full automatic
Technical details for the AWS 40
Technical details
Insulation: efficient stainless steel cryogenic cell with 120 mm thick walls, exterior powder coated in RAL9002,
interior stainless steel
Access doors: left and right
Controls: Siemens S7-1500 with KP 700 Comfort button panel incl. barcode reader
Control cabinet positioning: as a unit with machines on floor palettes back right
Process documentation: data management via LAN and/or USB
Batch volumes: up to 60 litres
Basket volumes: 150 litres
Basket geometry: cylindrical with roller rails
Basket speed: 5 – 40 rpm
Flywheel speed: 1,000 – 10,000 rpm
Blasting media launch speed: up to 157 m/sec
Blasting media: 0.5 – 1.5 mm polycarbonate
Internal sieving: two sieve inserts (0.5 – 0.75 mm PC // 1 – 1.5 mm PC)
Blasting media supply: steplessly adjustable vertical and horizontal spiral conveyor
Loading door: operated manually or automatically by an electric motor
Loading: swivelling conveyor belt
Dust extraction: integrated, isolated 2-stage cyclone dust extraction with service doors
Seals: low-wear metal alloy / special door seal
Compressed air supply: not required
Heat output: 1,700 Watts
Article memory: 4,000 items
Temperature regulation: PID regulator down to -150 °C
Construction: solid base plate incl. forklift slots
Weight: approx. 4,318 kg
Dimensions: 2,500 B x 3,000 D x 2,800 H
Electrical connection: 400/230/24 V/50 Hz/N/PE/3Ph/50A
Nitrogen input: 1/2", 4.5 bar
Exhaust: DN 100
Engineering drawing
AWS 40 with fully automated loading door
The motor-operated automatic loading door, in combination with the light gate provided, quickly moves between open and closed. It can consequently reduce set-up times in semi-automatic operation.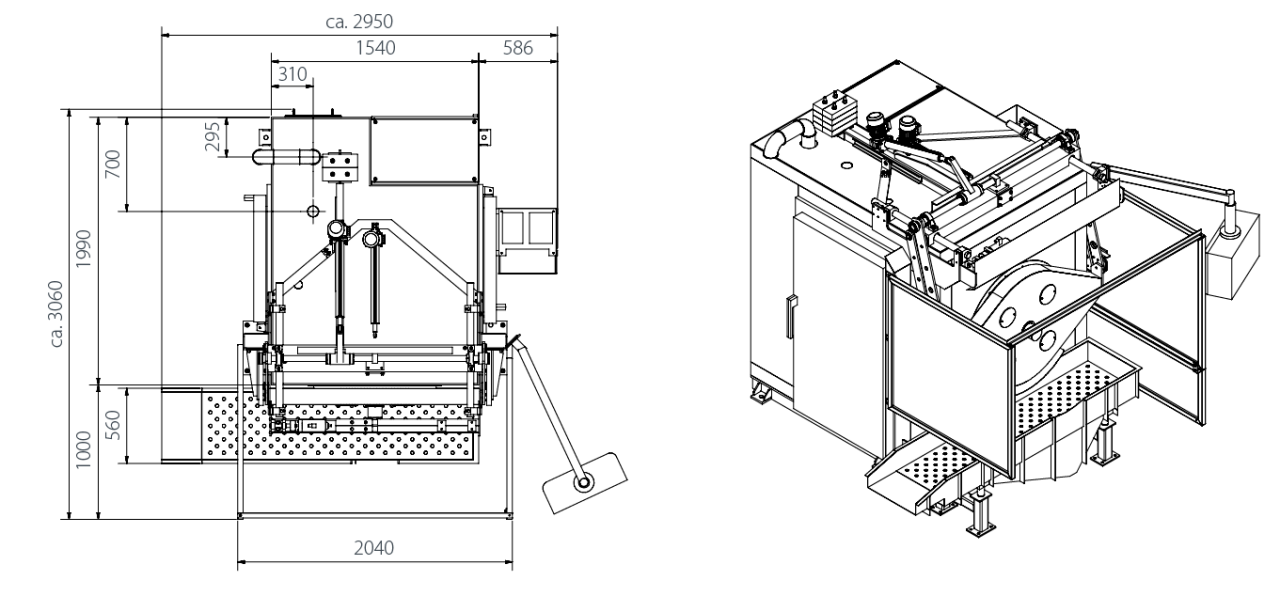 AWS 40 with fully automated loading door and loading
Fully automated operation of the machine can be implemented here. The moulded parts to be media-blasted are automatically fed into the machine via a conveyor belt system. Emptying after the end of the batch and refilling then occurs automatically. This can also be combined with upstream and downstream conveyor technology through to batch tracking by means of barcodes or RFID technology. In combination with the safety technology supplied, we naturally comply with all of the safety regulations here.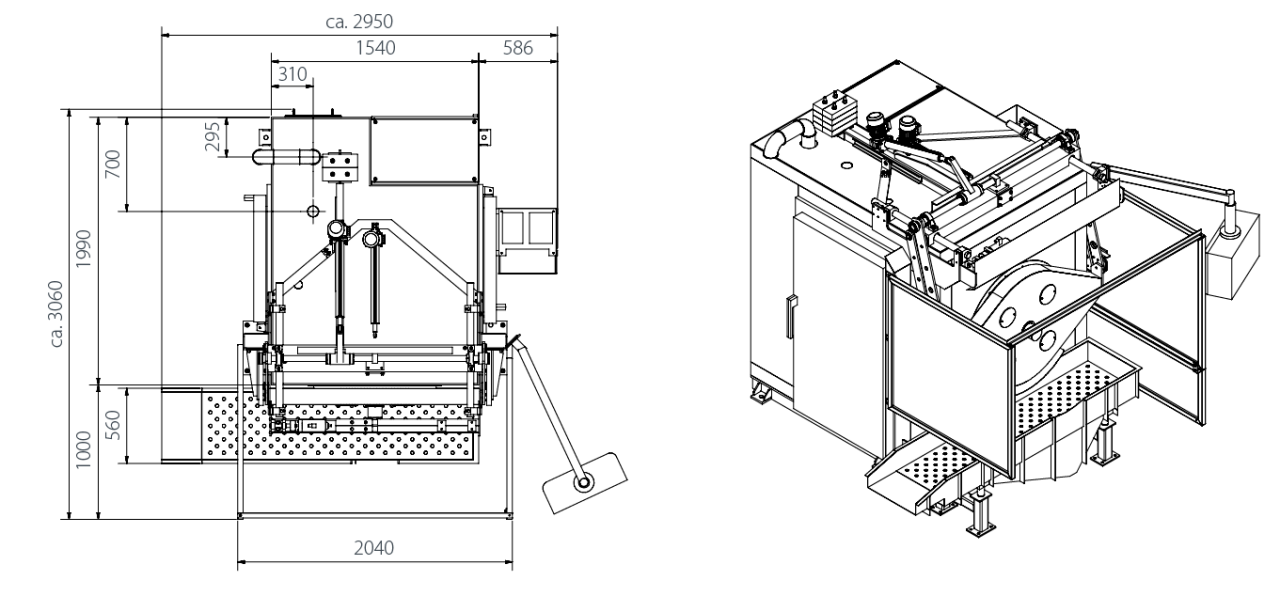 Industry 4.0
Simple and secure data handling with integrated USB and LAN interface. Recipes can be called up simply and safely with the barcode reader. Integration of the machines in internal company structures with remote access and online machine access is possible. OPC-UA is available as a universal communication interface on all our machines.
Active media-blasting angle adjustment
Processing basket
The basket can be swapped and a variety of basket perforations are therefore available. Tailored exactly to your requirements according to the moulded part sizes. Loading occurs manually or automatically through the fully automated loading door. The basket is automatically emptied onto the emptying sieve by means of the integrated roller rails.
Emptying sieve
The external vibration sieve works with frequency-controlled modern vibration motor technology. This allows the supply and sieve speeds to be set optimally. As standard, the emptying sieve is single-level with a changeable sieve so you can respond to a variety of moulded parts. We can also offer customised multi-level emptying sieves